There are no shortage of hikes in Hawaii! From easy trails to restricted areas that we definitely do not recommend, the islands are full of places to explore.
For the avid hikers, we recommend downloading the Alltrails app and carefully read reviews and precautions for each hike. There are very dangerous hikes in Hawaii! Please always think safety first!
Getting out and exploring Hawaii will provide you with some amazing memories, just remember to always wear sunscreen, take water, and do not leave valuables in your car.
We've made a short list of our favorite hikes to get you started ;)
Diamond Head Summit Trail
With stunning, 360-degree views in all directions from Waikiki to Waianae, the Ko'olau Mountains and the Koko Head Crater, it's easy to see why the Diamond Head Summit Trail is one of Oahu's most popular hikes. Located at 4180 Diamond Head Road just 2.5 miles south of Waikiki, the trail head is accessible by car, bike and public transit, and there are restrooms, a food truck, and water fountains available.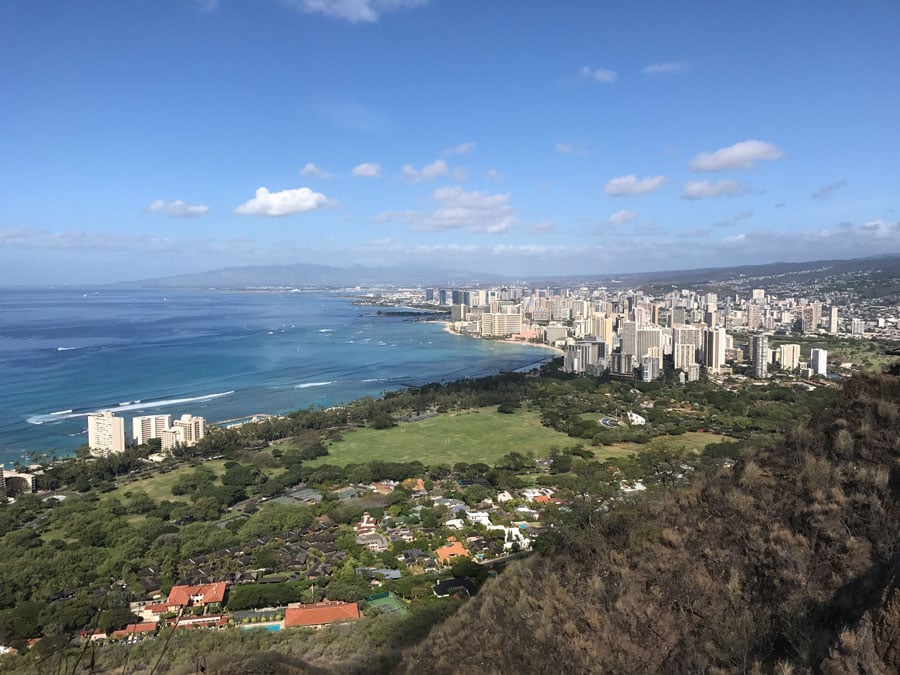 Diamond Head is a hike everyone should do at least once!
While not the most amazing hike on the island, it's popular due to its proximity to Waikiki and sweeping views of the area. It's one of those hikes that everyone should do at least once.
Basics:
Wear sunscreen! There isn't much shade.
Trail Length: 1.6 miles (return)
Terrain: Steep; narrow stairs; mostly paved with some loose gravel and rough areas
Average Time: 1-2 hours
Open 6 a.m. - 6 p.m. daily; trail entrance closed at 4:30 p.m.
Admission is $5 per car or $1 each for pedestrians - cash only
Makapu'u Point Lighthouse Trail
This easy, paved path provides exceptional views of Oahu's southeastern coastline along with plenty of opportunities to see Hawaiian seabirds and even migrating humpback whales from November to May from multiple viewpoints. The trail consists of multiple switchbacks to make the climb to the summit manageable for novice hikers; however, be aware that there is no shade so the trail can be very hot and dry.
Wear sunscreen! There is no shade.
Trail Length: 2.0 miles (return)
Terrain: Paved with moderate slopes
Average Time: 2 hours
Open 7 a.m. - 7:45 p.m. (April 1 to Labor Day); open until 6:45 p.m. Sept - Mar
No services; no drinking water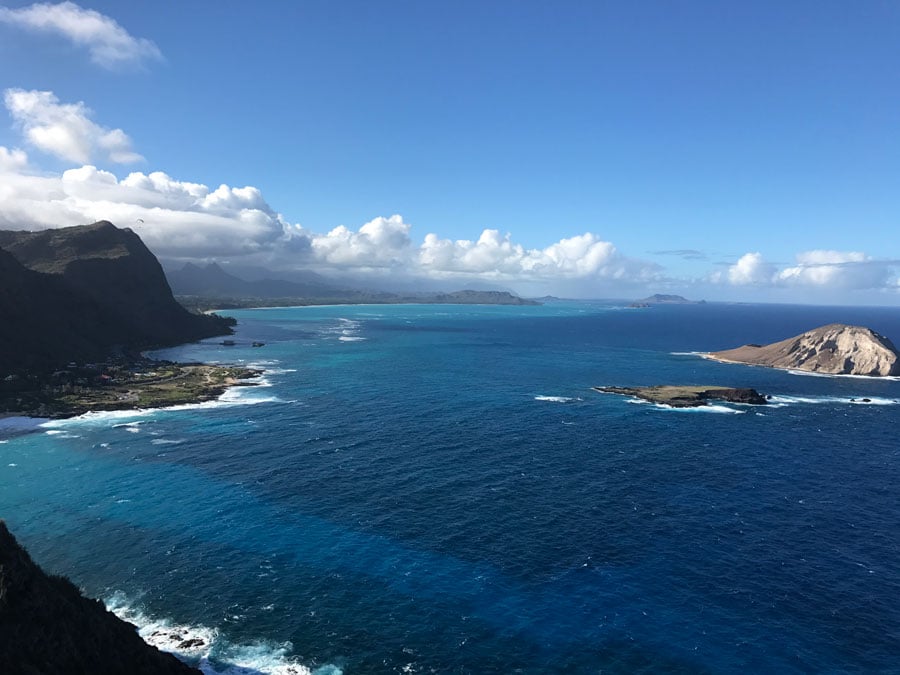 Views are amazing from both Makapu'u Lookout and from the trail.
You can skip the hike and go directly to a lookout (pictured above), where you can see breathtaking views of Makapu'u and all the way down to where we have our Waimanalo beach weddings at our top location: Sherwood Forest Beach.
Manoa Falls Trail
Located about 15 minutes northeast of Waikiki in the heart of the Honolulu Watershed Forest Reserve, the Manoa Falls Trail is a well-marked, heavily-traveled path that winds through giant tree trunks and palms, delicate tropical ferns and a small bamboo forest that guides walkers to the picture-perfect Manoa Falls. Scenes from both Jurassic Park and the TV series Lost were filmed here.
The trail is usually muddy. Don't wear nice shoes!
Train Length: 1.6 miles (return)
Terrain: Gravel, often muddy, relatively flat
Average Time: 1.5 hours
Open 8 a.m. - 7 p.m.
Entry is free; parking is $5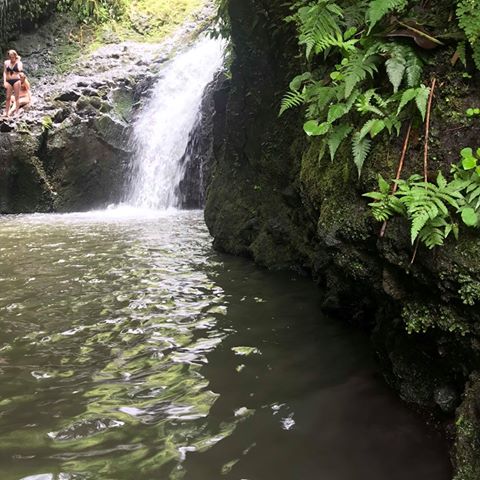 Thank you for the picture, Sarah T.!
Lanikai Pillboxes
Also called the Kaiwa Ridge Trail, this short, popular hike offers an amazing overlook of Laniki Beach, one of the world's most stunning beaches along with views of Kailua Beach and the Mokulua Islands and the Makapu'u Lighthouse from the two old military pillbox bunkers on the trail. Located on Oahu's windward side near Kailua, the narrow, challenging trail is steep in spots and bordered by fragrant wildflowers, making this a favorite among locals and visitors alike.
Please be respectful of the residential area and only park in legal parking spots along the road. Lanikai Beach is one of Oahu's best, so it's a great beach to relax at after your hike!
Wear sunscreen. There is very little shade.
Train Length: 1.8 miles (return)
Terrain: Rocky, can be muddy, steep at the start
Average Time: 1.5 hours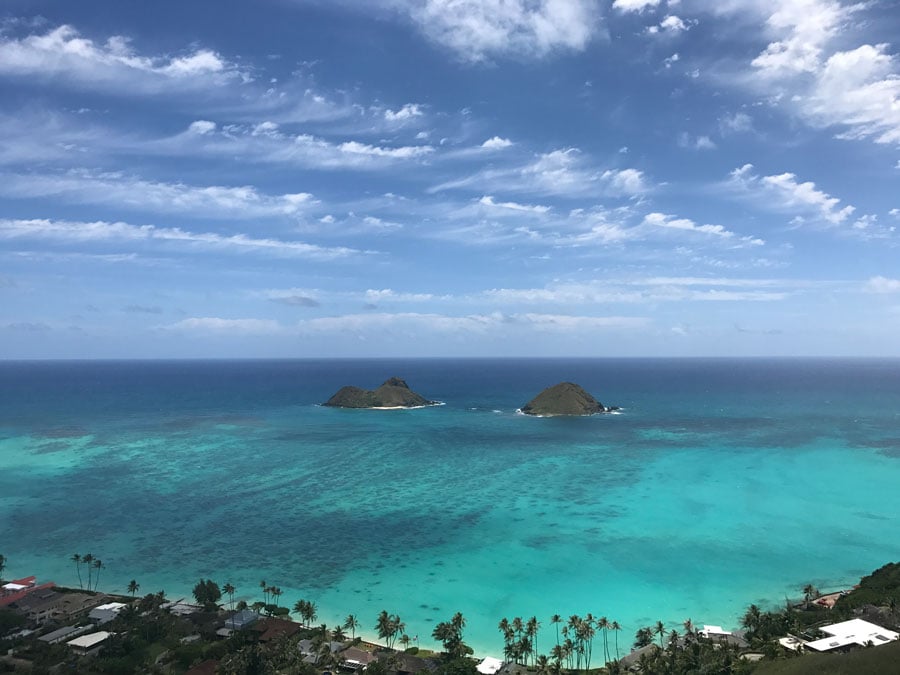 Lanikai is one of the most beautiful beaches in the world!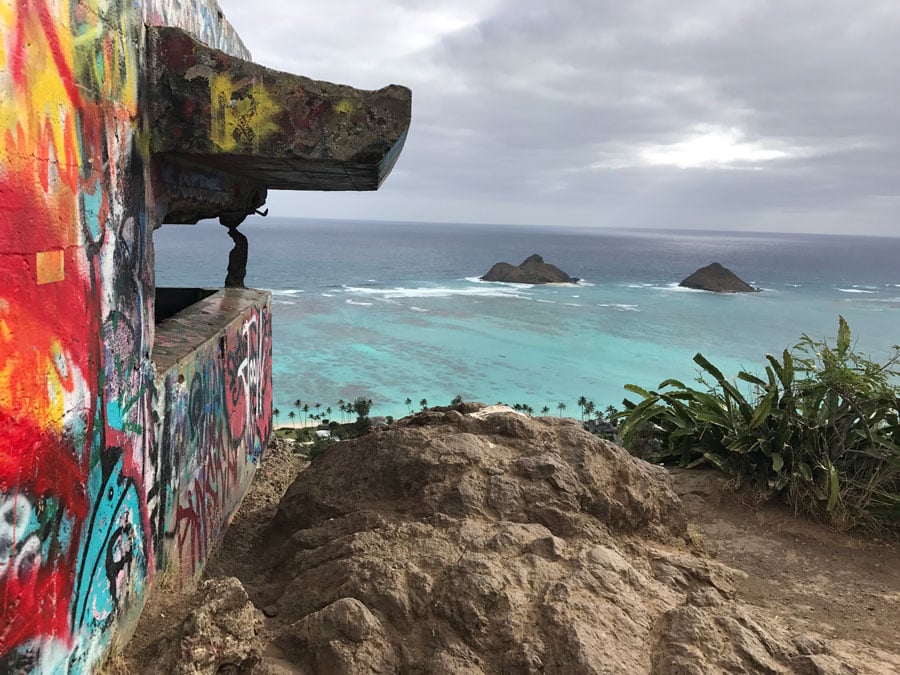 The Lanikai Pillboxes are date back to WWI and have gone through some style changes :)
Koko Head
Built by the military during World War II as a way to shuttle supplies to lookout bunkers located at the summit, the former Koko Head incline railway is now known as the Koko Crater Trail. Consisting of 1,048 railroad ties, this grueling hike is physically demanding. Those who reach the top are treated to uninterrupted panoramic views of Hanauma Bay, Port Lock Peninsula, and the surrounding mountains.
Trail Length: 1.4 miles (return)
Terrain: Very steep, sandy, no shade
Average Time: A strenuous 45 minutes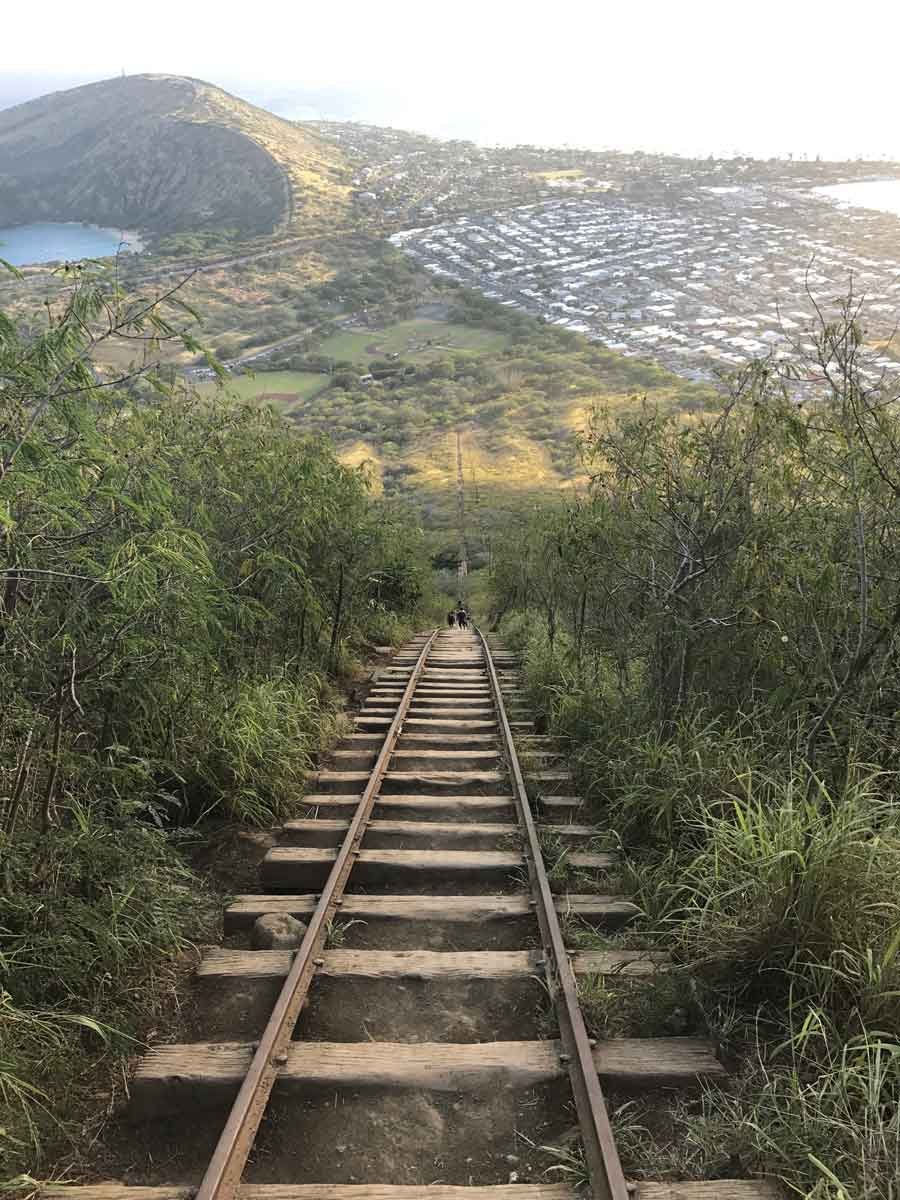 Looks kind of easy from here, right!
Kuliouou Ridge Trail
Located in the Kuliouou Forest Reserve, this long, challenging hike winds through wooded areas and lush vegetation dotted with clearings that provide exceptional ocean views along the way. At the top of the ridge hikers enjoy impressive views on both sides of the island.
While the views from the top are amazing, this is the longest hike on our list. If you're looking for a challenge with an amazing payoff, this is the hike for you.
Trail Length: +/-8 miles (return)
Terrain: Steep in spots, lots of switchbacks, can be rocky/muddy/slippery
Average Time: 2-4 hours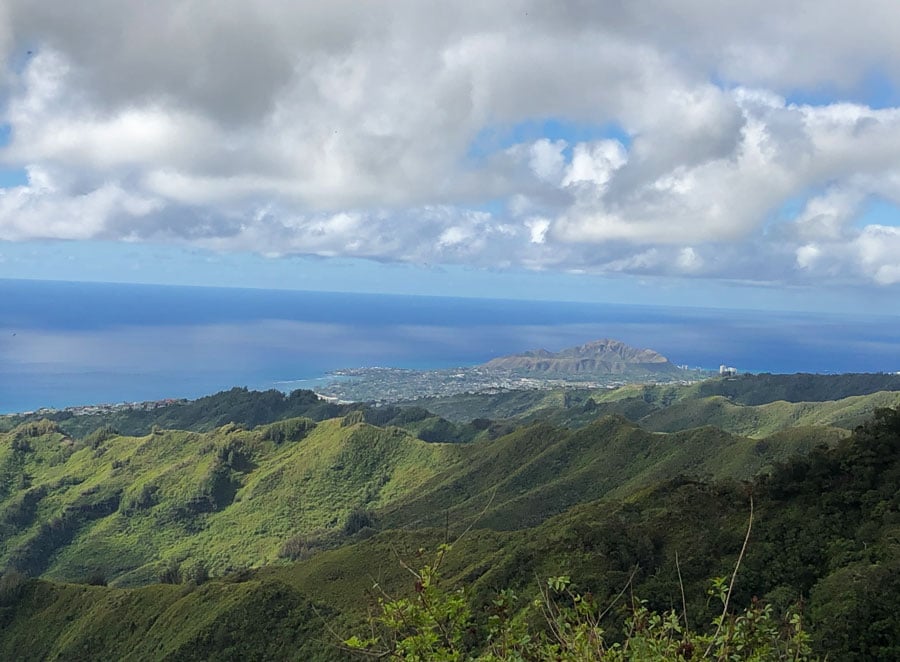 Conclusion
These are some of our favorites, but there are many, many hikes on Oahu to explore. Please remember to always be safe. Wear sunscreen, take water, and always stay on the path.