Hawaiian Curly Koa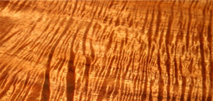 Curly Koa Grain
We utilize only the finest 5A rated Curly Koa available. The curly figuring in the grain of the Koa tree is very rare and usually makes up a very small portion of the whole tree.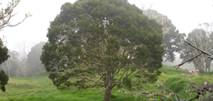 Curly Koa Tree
Our Koa comes from private ranches on the Big Island of Hawaii where these beautiful trees are responsibly harvested.
---
The Koa tree is truly the king of the Hawaiian woods and has lent itself to create everything that is wonderful about the Hawaiian Islands and its culture. From the ancient Hawaiian outrigger canoes to the spawning of the first ancient surfboards and ukulele, Koa deserves its place at the heart of the Hawaiian culture. Because of its amazing beauty, it adorns the palace walls and is one of the most expensive woods on the planet. Koa literally means "warrior" in the Hawaiian language and has come to symbolize strength, fearlessness, bravery, bold action, and the warrior spirit….you can practically hear the ancient drums.
Wood Characteristics:
The curly Koa we select for our rings ranges in color from light and dark browns, to reds, golds and a compilation of them all. The curl of the wood creates an undulation of grain when in bright light and moved back and forth. Koa's characteristic of chartency or reflective nature is truly amazing and rarely found in wood. It is usually a characteristic reserved for jewels.
Tree Characteristics:
The Koa tree is found throughout the Hawaiian Islands but is mainly found on the Big Island, Maui and Oahu. The tree is a fast growing tree that will typically grow to be between 50 and 80 feet tall. The ancient Koa forests have been decimated due to livestock and development but is making a comeback in recent history due to its value, ease of growth and restoration initiatives.
Location:
Our current Koa wood was harvested off the slopes of Mauna Kea on the Big Island of Hawaii. The Big Island is the largest island in the Hawaiian chain and the most rural. Ranchers often have fallen Koa trees that are bought and milled into usable koa wood stock but only the finest pieces make it into our rings.
---