Note: As of 05-29-2020, Pukalani Falls is no longer a wedding venue. The property has been sold, and the new owners are not using it for weddings.
With so many amazing wedding locations in Hawaii, it's not always easy to choose the perfect spot for your ceremony. With that in mind, we want to highlight a venue that is a truly special place: Pukalani Falls.
Everything You Need to Know About Pukalani Falls
Pukalani Falls is our premier private location, featuring a beautiful waterfall, stunning tropical garden, tranquil koi ponds, and the "Hawaiian Hobbit House." Beach weddings are what many have in mind for a wedding in Hawaii, but if you're looking for a unique Hawaii wedding, this could be the venue for you!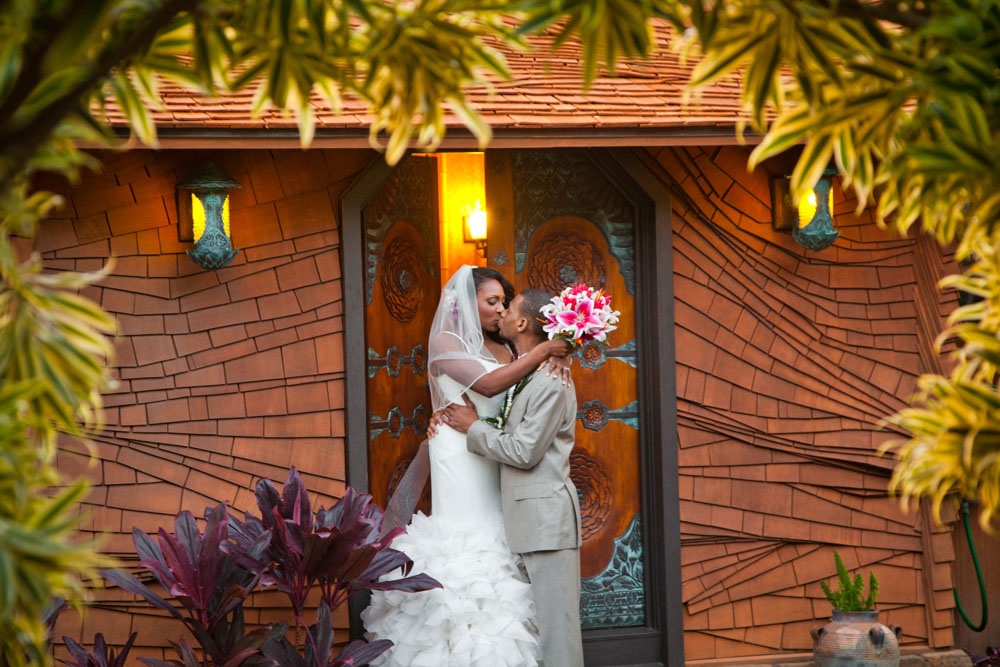 The Hobbit House at Pukalani Falls
Captain Howie is the proud owner and exclusive officiant of this exquisite property that was featured on HGTV's national Home and Garden Show as a wedding destination that's truly one of a kind. Although the photos speak for themselves, we have all the details about this fairy tale location to help you determine if this may be the right fit for your ceremony.
Ceremony Considerations
The ceremony is held on the carefully manicured lawn in front of the falls. We then take the couple around the property for photos. The lush surroundings and unique decor make up an unforgettable experience.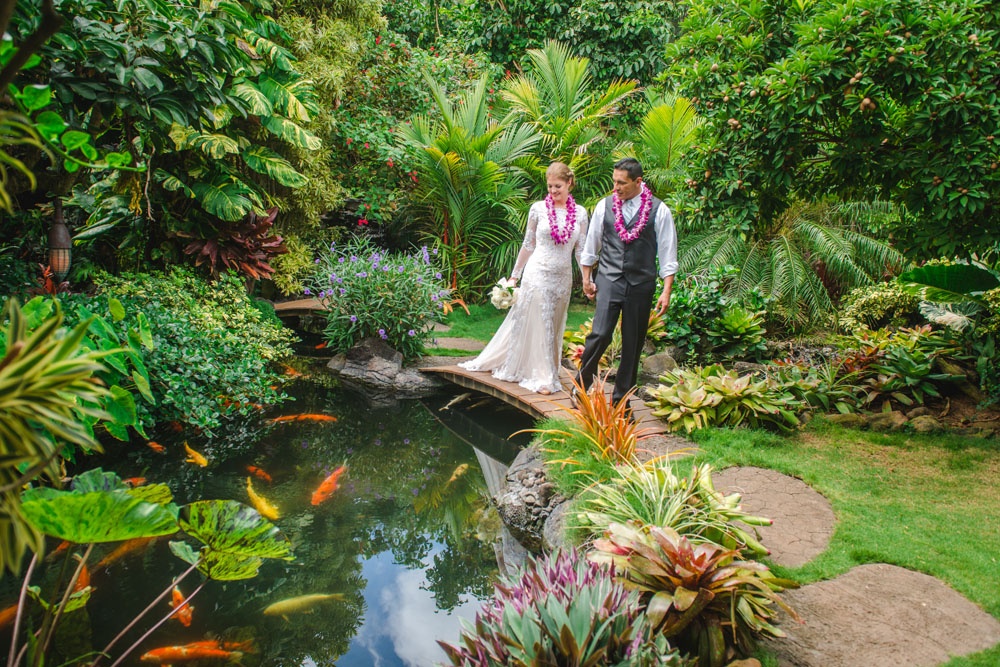 Such beauty!
It is a completely private venue, so crowds or strangers in your photos are a non-issue. There is a fee of $495, but it is well worth it! We recommend this location for up to 25 guests. The lawn in front of the falls is relatively small and cannot accommodate large groups, but it's perfect for an intimate ceremony, and while an arch setup at the falls is unnecessary, you may want to consider the Tropical Runway if you wanted to add even more decor.
Pukalani Falls is usually available Monday-Saturday from 8am-4pm.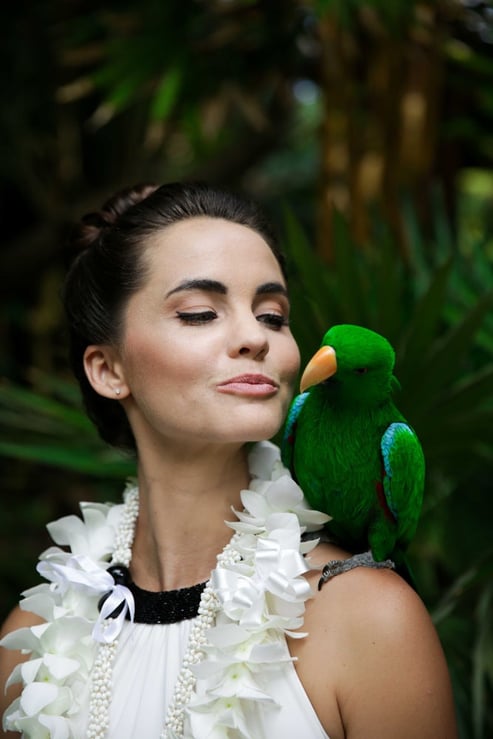 She made a new friend.
Photo Considerations
Pukalani Falls is beautiful anytime of day! There are a wide variety of photo opportunities at this location that makes for a truly unique wedding album. Captain Howie made deliberate decisions when designing his property with the idea that this would be a wedding venue. He took special care in selecting the plants, flowers, art pieces, and water features to ensure that every inch of space would make for perfect photo opportunities.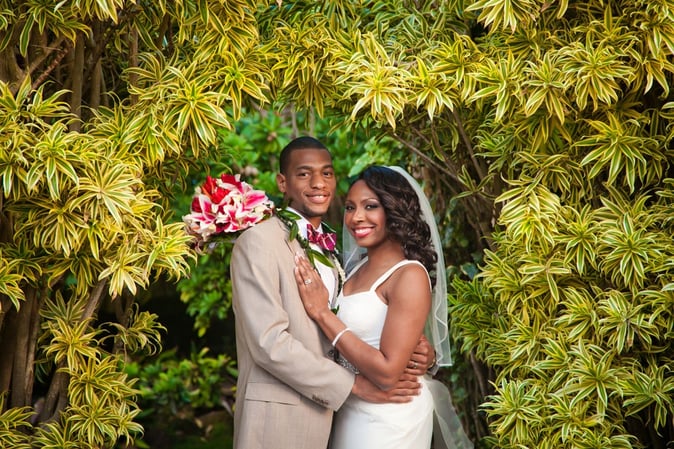 So many opportunities for amazing photos.
While it's perfect for a beautiful and unique Hawaii wedding, it's not a beach location. Fortunately, if you want to make sure to capture beach photos as well, it is conveniently located right next to Sherwood Forest Beach, perfect if you're considering adding a second location photo shoot.
Other Considerations
Pukalani Falls is about 45 minutes by car from the Waikiki area, which is where most of our couples and their guests stay. It's a lovely drive, just plan accordingly for drive time. You don't want to be late!
Additionally, if you have a package that includes a limousine, you'll need to add an extra hour.
Although the property is nearly flat throughout, you are not able to wear heels at this location. They puncture the lawn and can be a bit dangerous on the cobblestones and slats of the bride near the koi pond.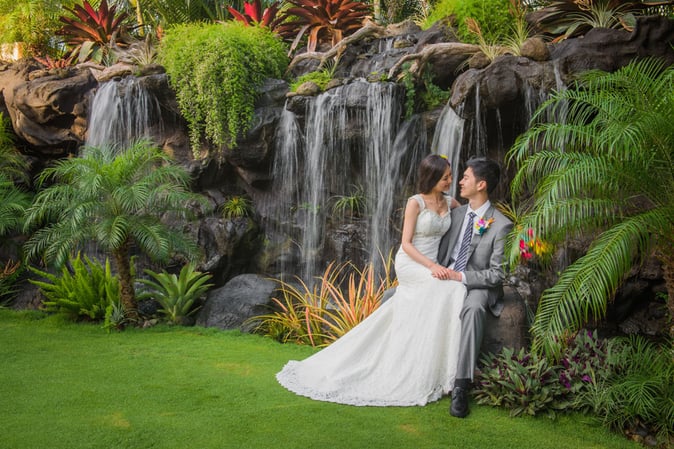 The pefectly manicured Pukalani Falls.
Final Thoughts
For many of our couples, Pukalani Falls is the perfect unique destination wedding venue. Captain Howie created one of the most amazing locations on the islands, and we're proud to offer our couples such an amazing location for their ceremony.
If you think this sounds right for you, we'd love to discuss it more in detail and help you plan your ceremony in paradise.