We've been helping couples find the best ceremony locations in Hawaii since 1978!
If you're planning on getting married in Hawaii, there are a few important decisions you need to make, and choosing the right Hawaii wedding location is one of them.
Do you want a beach wedding? Sunset ceremony? How about a two-location photo shoot?
You should consider both the logistics of the ceremony and types of photos you want. All our locations are stunning, and you're sure to get some amazing wedding photos, yet the locations are different in their own ways. It all depends on what you and your partner want!
Here are our picks for the best places in Hawaii to get married:
Sherwood Forest Beach - Best Hawaii beach wedding location
Magic Island - Best Hawaii sunset wedding location
Waialae Beach - Best morning or afternoon wedding location near Waikiki
Heaven's Point - Best second location wedding photo location
We're always here to help answer any questions you have, and we hope this article will help you narrow down your dream Hawaii ceremony location. :)
Best Beach Wedding Location: Sherwood Forest Beach
Don't be fooled by the name; Sherwood Forest is our most popular beach wedding location. The beautiful spot is on seven miles of golden sand and overlooks the turquoise waters of Waimanalo Bay.
Sherwood Forest gets its name from the ironwood trees lining the beach. When you pass through the forest and make your way onto the golden sand, you can see one of the most amazing scenes Hawaii has to offer. As the pictures show below, it's a fantastic spot for a beautiful wedding service!
Sherwood Forest Beach Highlights:
Beautiful scenery

Large beach

Least populated of our beach locations during the week
Things to consider:
No sunset on this part of the island

No palm trees, but the ironwood forest is beautiful :-)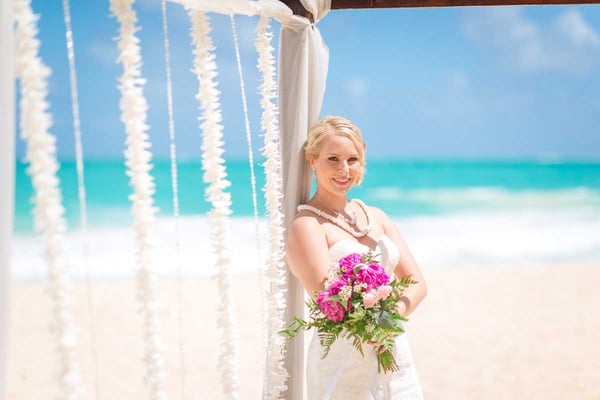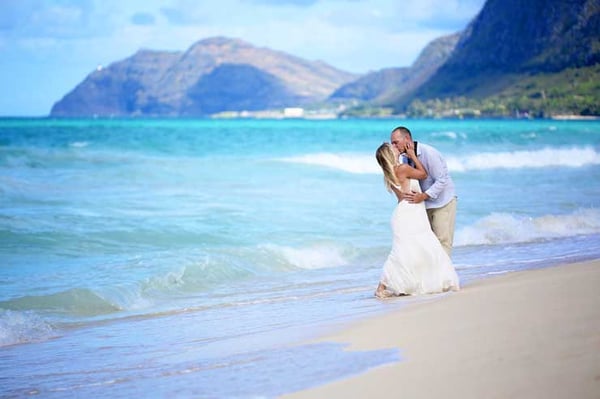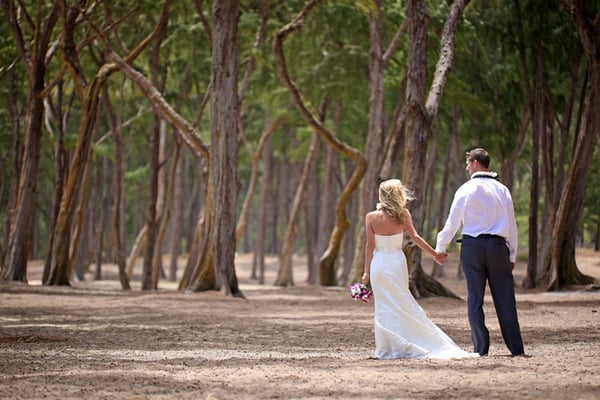 Check out the full Sherwood Forest Photo Gallery
Best Sunset Oahu Wedding Location: Magic Island
Located minutes from Waikiki and the majority of hotels on Oahu, Magic Island is a great spot for a wedding any time of day, and it's our recommendation for couples looking for a beautiful sunset location.
With Diamond Head and Waikiki in the background, your wedding pictures capture two of Oahu's most iconic images.
Magic Island Highlights:
Beautiful sunset

Diamond Head and Waikiki in the background

Close to Waikiki Beach

Any setup can be done any day of the week
Things to consider:
Not a "toes-in-the-sand" ceremony (ceremony is on grass; some photos at the beach after)

Not advisable on Fridays for sunset due to large crowds

Not advisable on Saturday or Sunday due to large crowds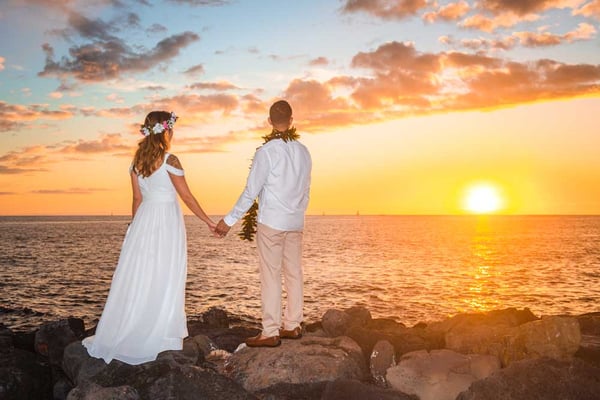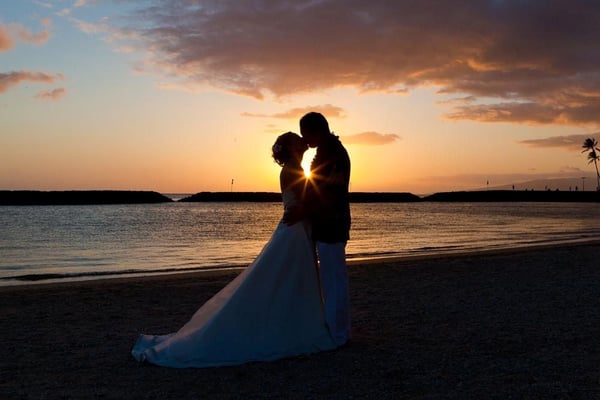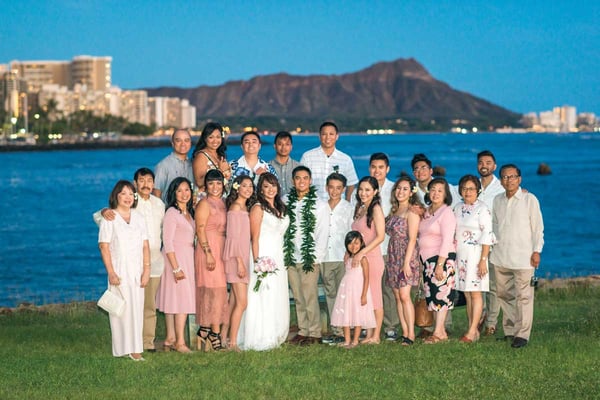 Check out the full Magic Island Photo Gallery
Best Morning Location near Waikiki: Waialae Beach
Waialae Beach is our most popular location near Waikiki. While Magic Island is popular for sunsets, Waialae is great for a morning and afternoon ceremony.
Although Waialae Beach is located in a residential area, the wedding location offers a nice mix of all you'd want in a Hawaii wedding: sand, palm trees, a grassy lawn area, ocean views… If Sherwood Forest is a little too far from your Waikiki hotel, Waialae Beach is a great spot for a wedding ceremony.
Waialae Beach Highlights:
Lots of photo variety

Near Waikiki

Great for early morning weddings
Things to Consider:
No arch and chair setups on the weekends

Not advisable on the weekends due to large crowds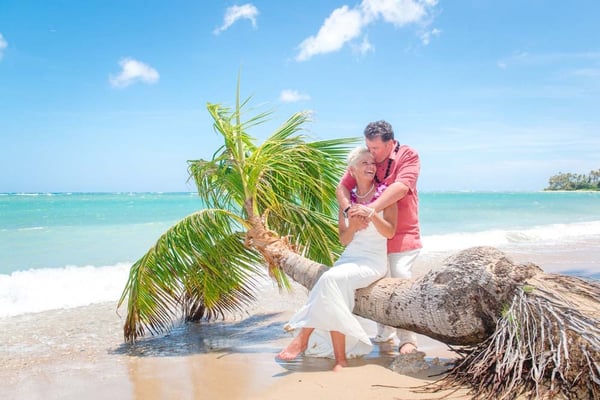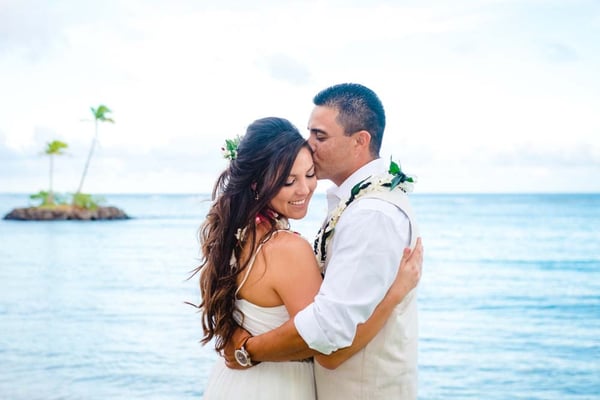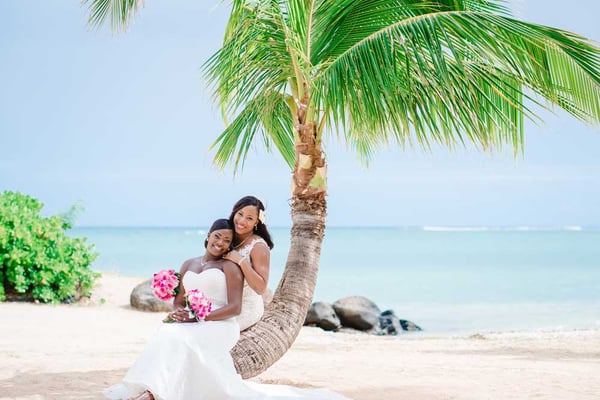 Check out the full Waialae Beach photo gallery.
Best Secondary Photoshoot Location: Heaven's Point
Do we even need to write anything here? Just look at those photos!
Heaven's Point has views of the deep blue sea, crashing waves, rocks formations, and that beautiful Hawaiian sky to provide the perfect framing for amazing photos.
We'll only take our couples out on the cliffs, no guests, and it's not ideal for a ceremony, but Heaven's Point is an incredible second photo shoot location. :-)
Heaven's Point Highlights:
One-of-a-kind photo opportunity

Near Sherwood Forest and Sandy Beach
Things to Consider:
No group photos (couples only)

Not ideal for ceremonies

There is no sand/beach area here, just the cliffs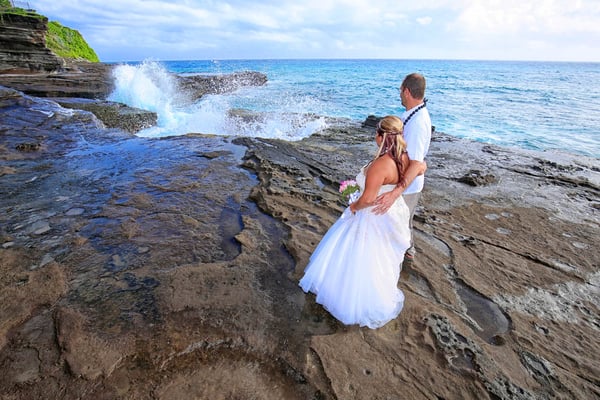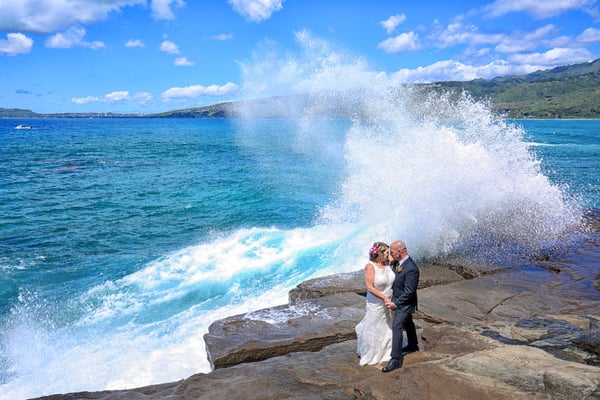 Check out Heaven's Point full photo gallery.
Planning your dream Hawaii wedding doesn't have to be stressful. Once you have a location and wedding package picked, we'll get to work putting the pieces in place for your wedding day. On your part, it's just a matter of booking your flights and hotel and deciding what else you want to include.
We're always here to answer any questions you have. Give us a call, contact us, or schedule a time below if you'd like to speak with a wedding coordinator.
Mahalo!